What our customers are
saying about us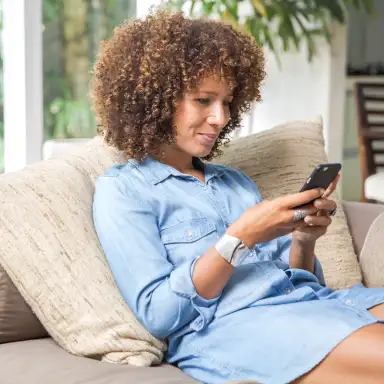 I've been feeling a million times better, and am so glad that I reached out to Alloy. It has been a game changer. :-)
09/19/22
Just wanted to share that on my menopause journey, the hot flashes were the least of my problems. I lost my joy completely, was awake every hour all night every night, angry, painful sex with no orgasm, dry thin skin, joint pain everywhere. My male GYN and male primary doctor pushed counseling. Never checked hormones, would not consider HRT. Even after switching to female nurse practitioners. So for 3 years I was searching for relief from anger, depression, and exhaustion. Had to leave my job working with kids, had marital problems. Finally found alloy. Within a week of wearing the patch, better skin, less joint pain, better chance of orgasm, better sleep when I do sleep now. It's a shame we spend so much on health insurance and have to spend out of pocket full price for relief and quality of life, because the insurance controls my health, not my doctors. Thank you so much Dr. Malone and everyone who is part of the Alloy team for helping women have quality of life instead of telling us we are mentally unstable. Giving us estrogen/progesterone so that we don't have to take antidepressants, arthritis meds, sleep meds, pain meds–I think it is even lowering my blood pressure! And for the unlimited messaging with my doctor. I share your company with women every chance I get. Again, thank you !!! I found me again through your company.
08/19/22
Hi, I just wanted to tell you how much I love Alloy. It makes me feel like my old self.
06/29/22
Hi! Just want to let you know how BONKERS grateful I am that you all started this. Even though I am about the same age, I want to be just like you when I grow up.
-Elaine, Missouri
I am so grateful for discovering Alloy as it helped me to get started taking care of myself.
06/24/22
I can't tell you how grateful I am for Alloy
05/11/22
On it, love it! You made a 100% difference in my life… Thank you for finally giving me something that really helps!I would just like to give a shout out to Alloy for helping me get my crazy hormones under control. I am 60 years old, I had my last period at 58, but from 56 until 3 weeks ago I had night sweats, hot flashes, brain fog, and only slept 3 hours a night. I tried many products with no results. I started my prescription 3 weeks ago and already feel 100% better. Thank you, Alloy!
05/06/22